An Infinite Number of Monkeys
A Guide to Effective Business Communications
"a well-informed, literate volume" - Guy Clapperton

The popular saying goes that an infinite number of monkeys could produce the complete works of Shakespeare, purely by chance. Infinity is truly a remarkable concept.
There's another popular saying that 'if you want something done right, do it yourself'. Amen to that – we can't have other numpties spoiling everything.
In other words, an infinite number of unskilled labourers, or just a single infinitely skilled one, can do anything.
If you don't have the luxury of infinite resources or infinite skill, if you live in a world of moderate abilities, time limits and financial constraints, then you're in luck. Because when put together effectively, human beings can produce amazing results. And that's what this book is all about.
What's in it?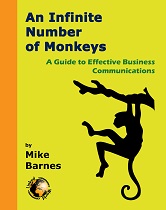 Here's the table of contents, you can click to view the first couple of chapters. You can also use the link on the left to click through to the links contained in the footnotes.
| Chapter | Title | Page |
| --- | --- | --- |
| | Preface | iii |
| | Who Should Read this Book? | v |
| 1 | Introduction | 1 |
| 2 | The People/Technology Vision | 5 |
| 3 | The Office | 11 |
| 4 | People and Information | 19 |
| 5 | People and the Organisation | 41 |
| 6 | Not Remotely Working? | 49 |
| 7 | Bring Your Own Device | 61 |
| 8 | The Agile Worker | 71 |
| 9 | Anarchy! | 75 |
| 10 | Identity | 89 |
| 11 | Social Networking | 99 |
| 12 | Clouds | 159 |
| 13 | Core Technologies | 107 |
| 14 | Social Media | 135 |
| 15 | Security vs Communication | 165 |
| 16 | Your Personal Information Portal | 175 |
| 17 | Back to basics: the phone system | 183 |
| 18 | Where next? | 199 |
| | Index | 201 |